The museum has reopened to the public with new, limited hours: 
Wednesday through Sunday 
11:00 a.m. to 12:00 noon for seniors and COVID-vulnerable visitors
12:00 noon to 3:00 p.m. for everyone
Learn more. 
Safety comes first.
We're putting new measures in place to protect the health of our visitors and staff:
All visitors must wear a mask or other face covering while inside the museum and maintain a distance of at least six feet from anyone not in their household.

We are facilitating social distancing by limiting the number of people in the museum building at any one time and providing signage to ensure a safer flow of traffic through the exhibit halls. Children must be closely supervised by their adult(s) at all times. 

We are requiring that staff and visitors alike stay home when sick. Please review the University of Oregon's symptom checker and make sure you haven't experienced any of the listed symptoms during the 72 hours leading up to your visit.  

We accept only credit and debit card payments or exact change for cash payments.

Groups of 10 or more are not permitted in the museum at this time. 
Learn more about our safety measures during COVID. Questions? Call us at 541-346-3024. 
Hours
Beginning August 5, 2020


Wednesday through Sunday
11:00 a.m. to 12:00 noon
for seniors and COVID-vulnerable visitors 


12:00 noon to 3:00 p.m.

for everyone

 

 
Admission
Seniors (62+)
Youths (3-18)
$4
Families
(up to 2 adults and 4 youths)
$12
Children (2 and under)
UO students, faculty, staff*
MNCH members
Veterans and active-duty military*
Free
OREGON TRAIL AND OTHER EBT CARD HOLDERS
The museum offers discounted admission to visitors presenting electronic benefit transfer (EBT) cards such as the Oregon Trail Card.
Individual: $1
Families: $5
Learn about all of our free and reduced admission opportunities.
GROUP VISITS | GROUP RATES | GUIDED TOURS
Due to health and safety concerns during the COVID-19 pandemic, we are currently unable to accommodate parties of more than ten and are not offering guided tours.
Directions
1680 East 15th Avenue
Eugene, OR 97403
The museum is located on 15th Avenue, between the Knight Law Center and Global Scholars Hall, on the University of Oregon campus.
Bicycle racks are available at the museum's main entrance.
Plan your trip on public transit using the LTD interactive route planner.
Limited free parking is available during your visit in UO Lot 34a. Please call 541-346-3024 for details. Learn more about parking at the University of Oregon.
Our exhibits are fully wheelchair accessible. A wheelchair is available for visitor use on a first-come, first-served basis.
Museum Store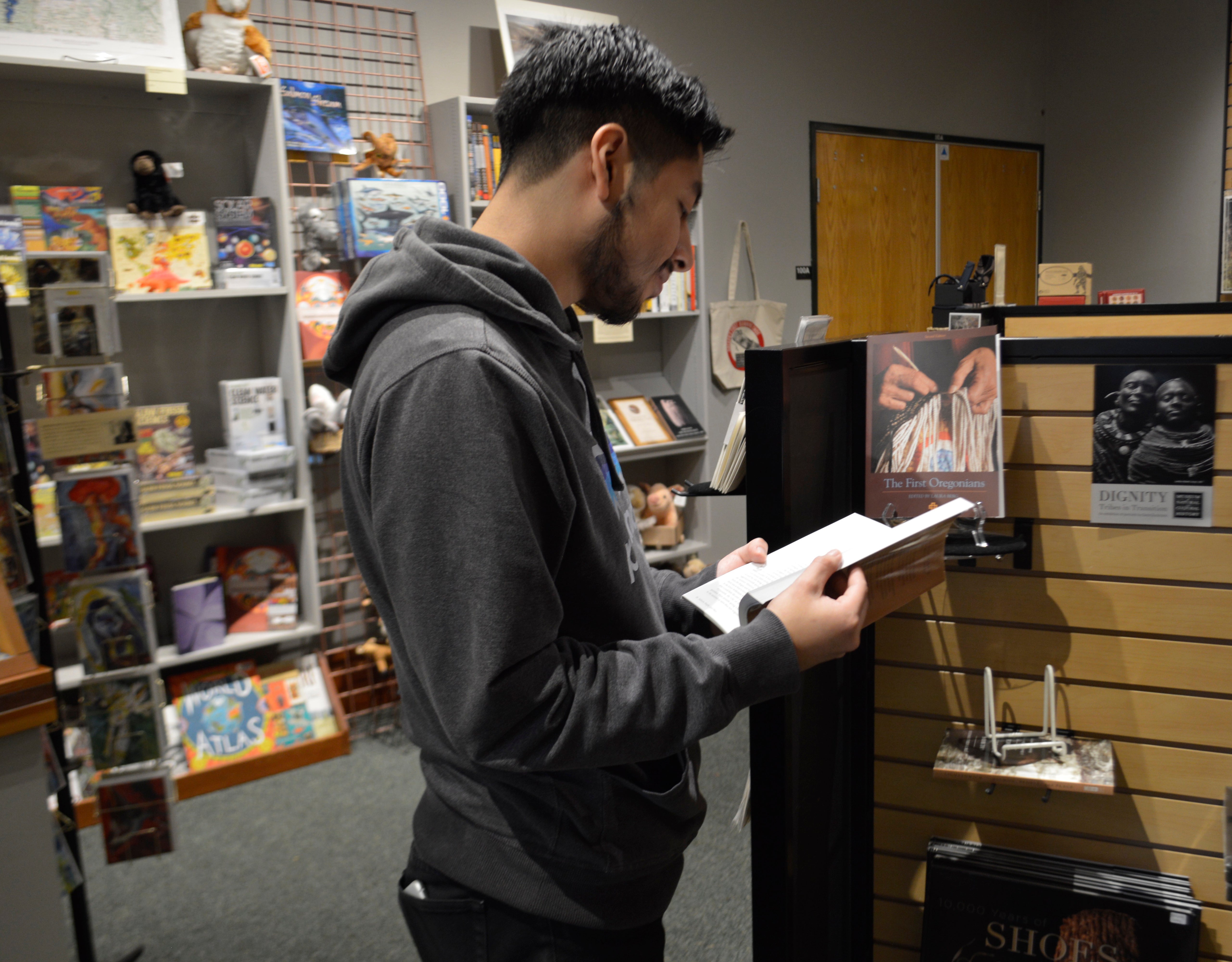 Make a difference when you shop. Each purchase at the museum store directly supports museum education programs that inspire Oregonians all around the state. 
We feature science gear for kids and adults; items crafted by local, Native, and regional artists; Northwest-focused books and field guides; and much more. Admission to the store is always free. Learn more. 
Please note that the store will be open on a limited basis during COVID. Ask a staff member or call 541-346-3024 for details.