MUSEUM ADVENTURES brings bilingual English/Spanish traveling exhibits to rural communities across Oregon with fun activities for the whole family.
These exciting new educational resources are available to libraries and other community organizations in rural locations. Each traveling Museum Adventures exhibit features a set of exhibit stations, hands-on activities, and a programming toolkit—all you need to host four weeks of fun, interactive programs.
The Native Innovation exhibit is open for scheduling requests!
Subscribe to our digital Oregon Libraries Newsletter
Two Exciting Adventures
The Museum Adventures program includes two exhibits: Oregon's Dino-Story, launched June 2022, and Native Innovation, hitting the road in 2024. Each theme has two traveling exhibit copies.
 

 

Oregon's Dino-Story

Native Innovation

Uncover the mystery of Oregon's dinosaur history! Join us for this dino-mite adventure and explore the clues that fossils reveal about Oregon during the Age of Dinosaurs.

Program participants discover:
•    What makes a dinosaur a dinosaur?
•    How do we know about dinosaurs?
•    When did dinosaurs live?
•    Why are dinosaur fossils so rare in Oregon?
•    And so much more!

Celebrate engineering innovations designed and used by First Nations in Oregon. This exhibit will explore how Native Americans have used knowledge, creativity, and ingenuity to solve problems for thousands of years, and continue to do so today. Participants will be invited to try their own hand at engineering, while learning from examples of traditional Indigenous technologies related to housing, travel, tools, recreation, resource management, and more.
What's Included
Body
The Museum Adventures exhibit will spend approximately four weeks at your location and can be used as the basis for a variety of fun, educational community programming. All public-facing materials are bilingual English/Spanish—such as the exhibit stations, family handouts, and publicity resources.
Here is what's included with each traveling exhibit:

Exhibit Stations:
A set of themed stations that can be displayed in public areas for youth and families to explore. The stations include touchable objects and interactive activities that do not require electricity, allowing the exhibit to be used in a variety of locations, including off-site or outside events. The full exhibit can fit onto three tables and some adjacent floor space. The exhibit stations are modular, meaning that they can be displayed all together or the individual stations can be set up in different areas of a building or put out at different times.

Programming Toolkit:
The Programming Toolkit includes an Exhibit and Program Guide, as well as the resources and materials for a variety of themed programs and events, such as a family STEM event, an early childhood story hour, youth workshops, hands-on activities for all ages, and take-home activity kits. Specialized props and reusable supplies are provided.
The Exhibit and Program Guide will be provided as a set of shared digital resources prior to your loan date. A hard copy notebook version of the Exhibit and Program Guide will also travel with the exhibit.

Publicity Resources:
The Publicity Resources pages provide ready-to-use bilingual English/Spanish materials for getting the word out about the exhibit and related programs. Examples include:
Marketing language for use on website, newsletters, or community calendars.
Flyer templates for posting at the library and in your community
Program artwork or photos that can be used for website and social media postings
Ready-to-post social media language along with photos and video clips.
Publicity Resources for Oregon's Dino-Story
Publicity Resources for Native Innovation will be available in February 2024

Orientation Resources:
Videotaped and written materials will introduce you to the exhibit content, interactive activities, and programming resources, as well as provide an orientation to the exhibit set up, take down, packing, shipping, and maintenance.
Native Innovation
Body
The Native Innovation exhibit includes 8 tabletop exhibit stations, 2 exhibit stations that are displayed on top of shipping crates, and 4 free-standing, six-foot, pop-up banners.

The Native Innovation exhibit presents a celebration and recognition of many science and engineering innovations developed and used by Oregon's Indigenous peoples. The museum extends our thanks to the Oregon Tribes that participated in the development of the Native Innovation exhibit, as well as the traditional artists who contributed their knowledge, expertise, and time to create objects to be used for display and teaching.
The Native Innovation Programming Toolkit includes books, lesson plans, and materials to support fun learning experiences engaging with science and engineering innovation.
Oregon's Dino-Story
Body
Oregon's Dino-Story exhibit includes five tabletop stations, a free-standing map station, a simulated fossil dig pit that can be displayed on a shipping crate or table, dinosaur footprints on the floor, and some inflatable dinosaurs to set the stage for fun.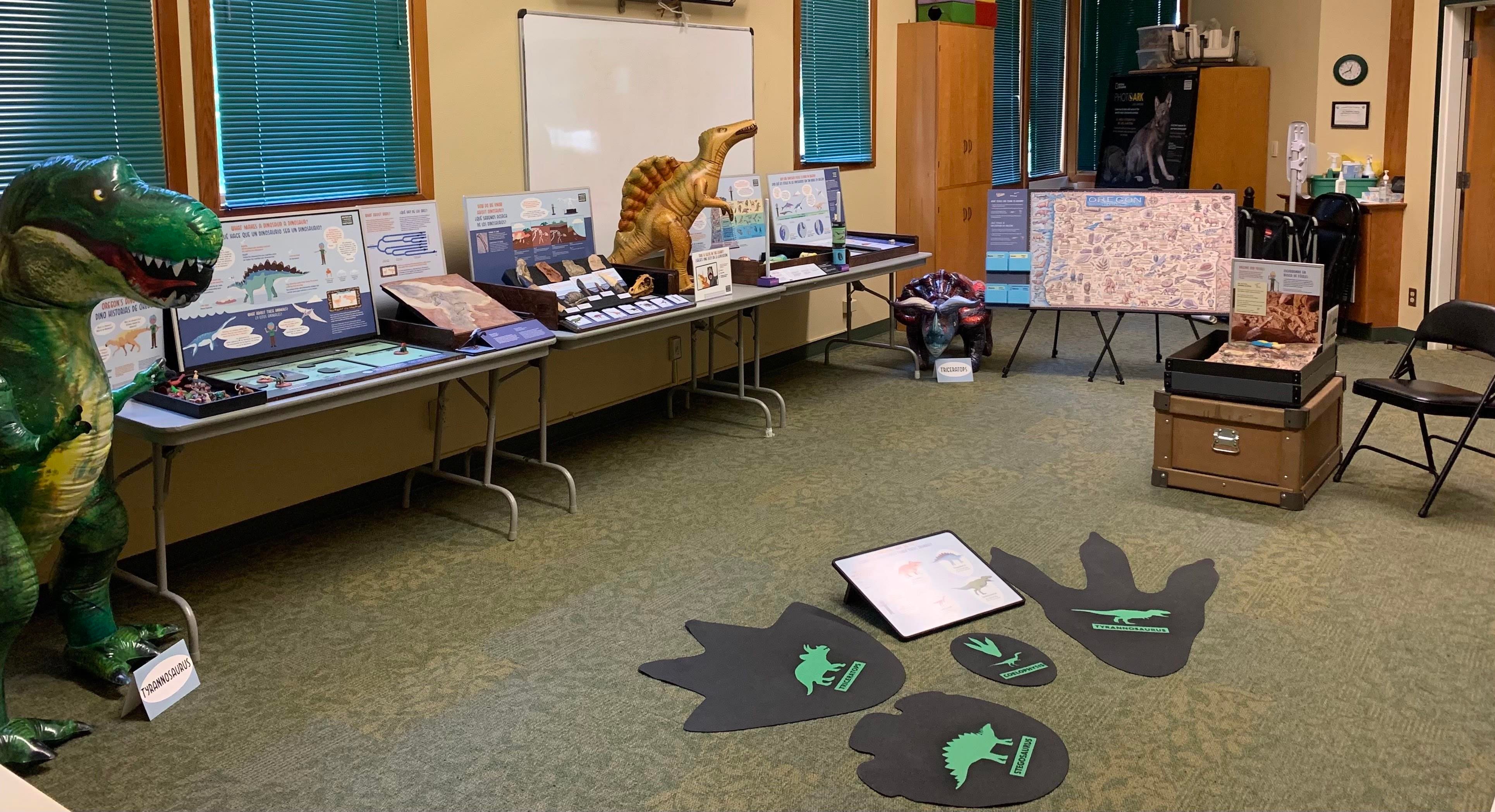 The Oregon's Dino-Story Programming Toolkit includes books, lesson plans, and materials to support fun learning experiences about fossils and dinosaurs.

Check out the exhibit set up at Sutherlin Library.
Oregon's Dino-Story Publicity Resources page
The Exhibit Introduction video is provided below and additional training resources will be made available to exhibit host sites once a scheduled exhibit check out date is confirmed.
Dino-Story Training Video 1_Exhibit Introduction.mp4 from MNCH on Vimeo.
Exhibit Loan Fee
Body
$300 for a 4-week loan of Oregon's Dino-Story
$350 for a 4-week loan of Native Innovation
This fee helps cover the cost of shipping and maintenance of the exhibit as it travels around the state. The fee will be payable 30 days prior to the scheduled loan date.
Affordable for a reason
The Museum Adventures project seeks to increase access to STEM education learning experiences for youth and family audiences in rural Oregon communities. By offering high-quality resources at a low cost to public libraries and other community organizations, it will increase the capacity of those organizations to provide rich, STEM-related programming for the public.
Shipping Logistics
Body
Shipping costs are included in the flat rate exhibit loan fee and logistics for delivery and pick up will be coordinated directly with locations.
The exhibit ships in four or five large cardboard crates and Oregon's Dino-Story includes a hard plastic suitcase.
Each crate weighs between 50 and 65 pounds. Handles make each crate easy for two people to carry and the crates can be stacked. A wheeled cart is provided in crate A. The crates can become a part of the exhibit display if table space or storage space is limited.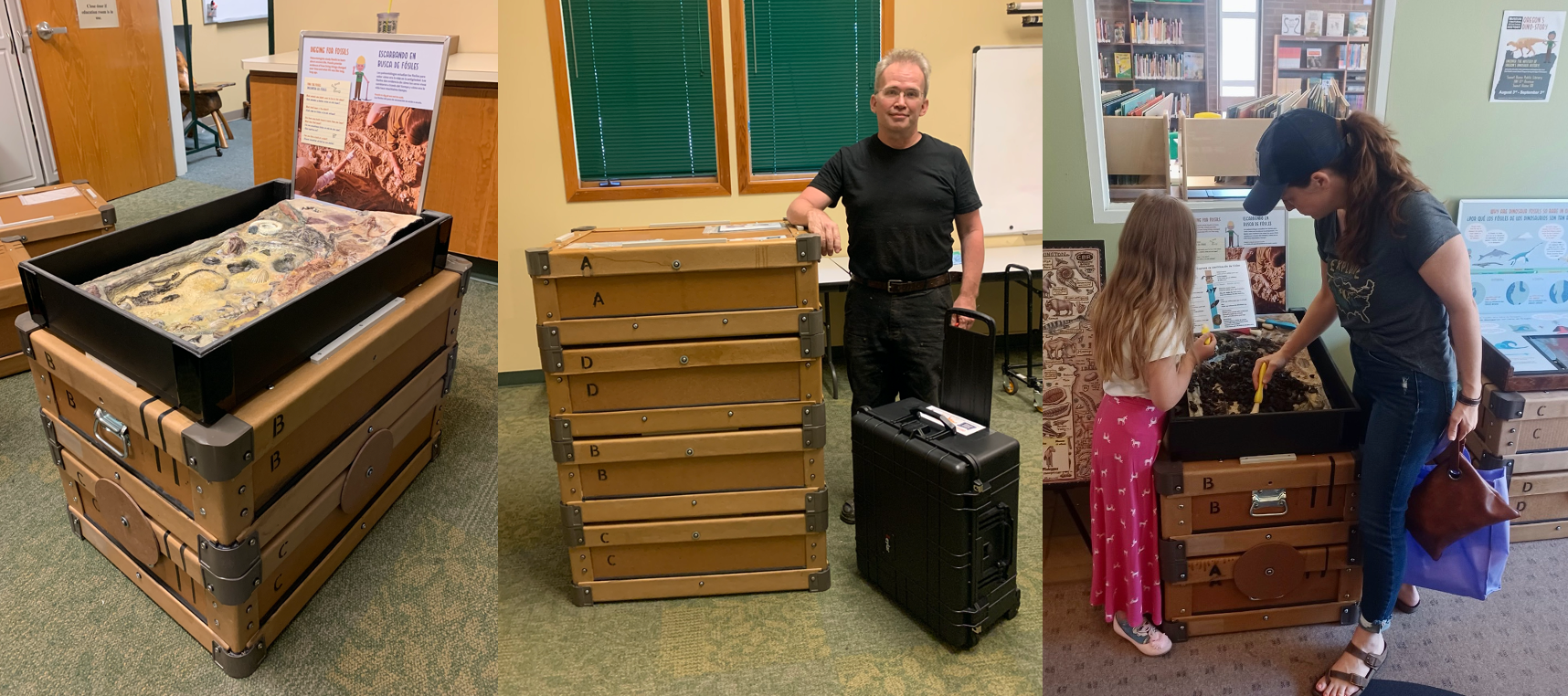 Request a Museum Adventures Traveling Exhibit
Body
Submissions open for Oregon's Dino-Story.
There are still dates available in 2024.
Submissions open for Native Innovation.
Requests will be added to the itinerary in the order in which they are received.
Questions?
Contact the Outreach Program at mnchoutreach@uoregon.edu or 541-346-5019.
Sponsors
This project was made possible in part by an American Rescue Plan Act (ARPA) Grant from the Institute of Museum and Library Services through the Library Services and Technology Act, administered by the State Library of Oregon.